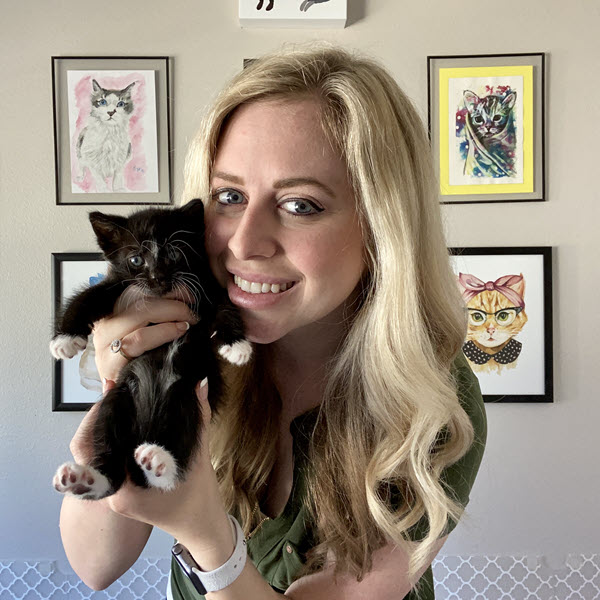 Ashley Morrison
Founder and Board Member
Ashley Morrison is a kitten rescuer and mental health advocate whose mission is to spread happiness and knowledge while saving lives. Ashley has a B.A. from the University of Washington in Media and Communications and is known for her work as Youngestoldcatlady.
She has fostered and volunteered for multiple shelters over the last decade before making the transition to running her own rescue. When not fostering an exuberant amount of kittens, she enjoys traveling, trying to befriend every cat she sees, and watching too many true crime documentaries.
Contact Ashley at  Ashleyskittenacademy@gmail.com
Dr. Laura Robertson, DVM
Board Member and Veterinarian
Dr. Laura Robertson, a veterinarian at Twin Pines Animal Hospital grew up in Southern Idaho and migrated to the Pacific Northwest to attend the University of Puget Sound where she graduated with a BS in biology. After working for 4 years in biomedical research, she found her passion volunteering at PAWS rescue organization. She attended Washington State University College of Veterinary Medicine, graduating at the top of her class in 2009. She has a special interest in feline medicine and clinical pathology. Her goal in veterinary medicine is to educate her clients to allow them to make an informed decision that is best for their pets and their family. She is a member of the American Veterinary Medical Association and Washington State Veterinary Medical Association. In her free time, she enjoys hiking, skiing, traveling, and enjoying the amazing outdoors in the Pacific Northwest.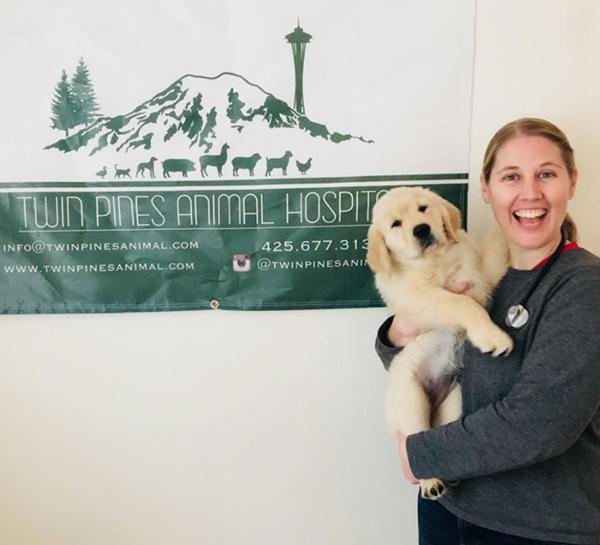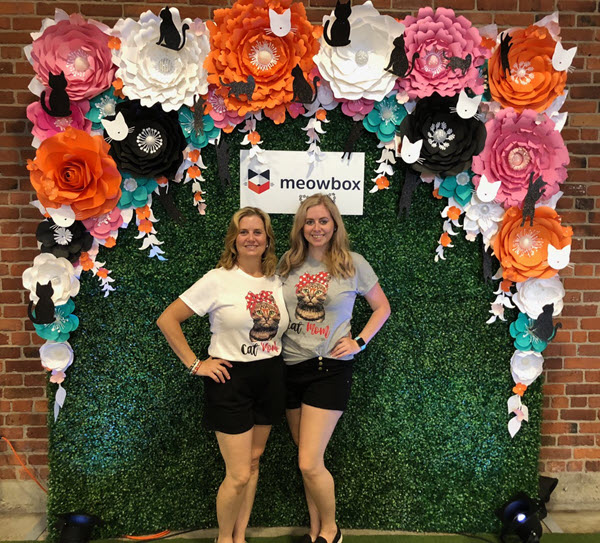 Cindi Morrison
Board Member and Foster Overflow
Cindi, also known as "Ashley's mom" has grown to love fostering since Ashley brought home her first kittens.
She continues to foster for Ashley when Ashley's Kitten Academy is too full and needs an additional room for a mom or kittens.
April Welch
Board Member and Clarity Coach
April Welch is Ashley's thought partner for all her out-of-the-litter-box ideas, purrrrfect solutions & the occasional rant about how adorable toe beans are. April was the first official Youngest Old Cat Lady fan & recognized the potential Ashley's passion & talents could bring to the world. With consistent nagging, eh-hem, I mean encouragement, YOCL was born on Instagram.
April's mission in life is to laugh at ALL of Ashley's jokes & remind her "it's because she's awesome" when the trolls get a little too obsessed.
When not kissing the ground Ashley walks on, April can be found living in the mountains of WA State enjoying the peacefully empty house her Fireman husband built & where they raised their 2 boys.
Pre-COVID she could be found brewery hopping in search of a good (gluten-free) stout, road tripping with her husband, hosting friend & family dinners (her husband cooks, 'cause she can burn water), binge-watching anything with a "who-done-it" theme & reminding her 13+ y/o cat that they've earned their sass (okay, she may still be doing those last 2 daily).