Become a Teacher!
What does it mean to be an Ashley's Kitten Academy Teacher? A teacher is someone who shares knowledge. You are not just a donor, you are an educator. You help by spreading the word about kitten and cat rescue, the importance of spay and neuter, and the work we can all do together to provide a better world for our feline friends.
Join Ashley's Kitten Academy and receive your downloadable Teaching Certificate. This certificate can be printed out and attached to your printable welcome letter, or you can cut it out and put it in your wallet or on your fridge. Show others and use it to teach about the importance of spay, neuter, TNR and rescue.
You can set this up via Paypal, or with your debit or credit card.
To become a teacher, please click the button below and enter your monthly recurring donation amount.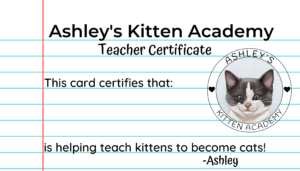 Ashley's Kitten Academy is a 501(c)3 organization.
Our EIN number is 84-4679323